Skillern - Compleat Instructions for the Fife
Thomas Skillern was an 18th century music publisher in London, England. He had apprenticed under one John Walsh, where he learned the fine skills of engraving plates for the printing of music. He went into the publishing business with a partner, Thomas Straight, in 1766. The business dissolved in 1777, whereupon Skillern went into his own business at 17 St. Martin's Lane, London. With England in the midst of a war in the colonies and in a state of war with both France and Holland, there was a market for a book that could be used to train military musicians, so he published Compleat Instructions for the Fife in 1780.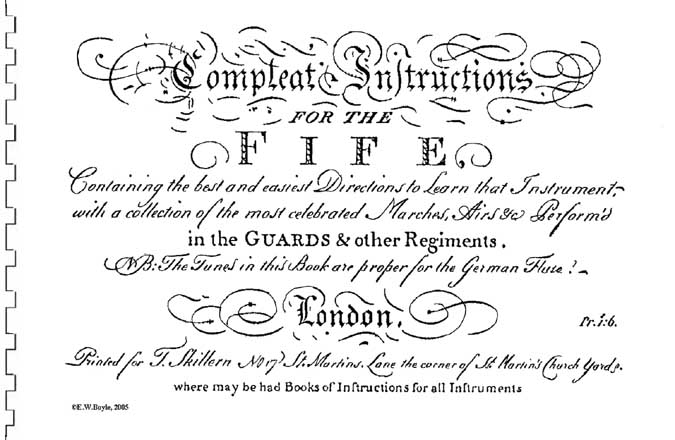 Skillern's book, 36 pages in length, containing 87 tunes, is a wonderful source of music from that period: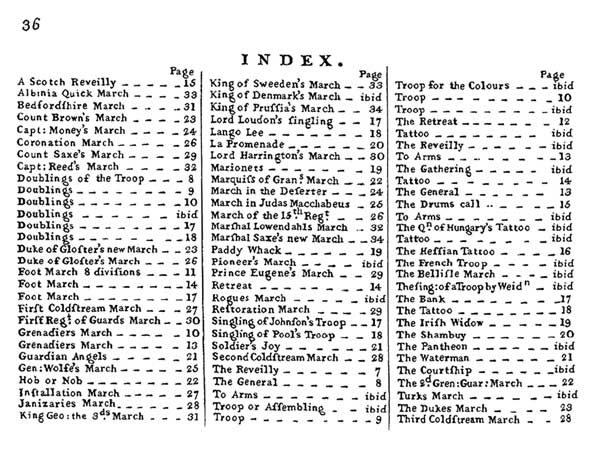 Most of of Skillern's printing plates were eventually purchased by Thomas Preston, who ran a music publishing business at 25 Greek Street, Soho. In 1796, Preston published New and Compleat Instructions for the Fife, which bears more than a passing resemblence to Skillern's book.
Digitally enhanced from the original, Skillern's Compleat Instructions for the Fife is available for $14.95 plus shipping expenses. It looks as sharp and crisp as it did on the day it was first sold in London.
Either use PayPal


or, to order by mail, click on the fife.