Civil War Fife, Drum and Brass Band!
A former member of the Black Watch and founder of the Colonial Williamsburg Fife and Drum, I have known Major George Carroll for most of my lifetime. A maker of fine rope-tension drums, George has instructed many drummers over the years, including those at the Fort Delaware Civil War Musician's School.
George has produced a compact disk with a fine collection of fife and drum selections from Bruce and Emmett along with authentic performances of Civil War brass band music. It is all played on period instruments by The International Association of Field Musicians and the Heritage Brass.
Contents:
The Drummer's and Fifer's Guide, 1861,
with Music Virginia Fifes and Drums (18 tracks)
1. The Muffled Drum Quickstep, Drum Q.S., Dixie, Drum Q.S. #1, Biddy Oats Q.S., 2-10 Reveille,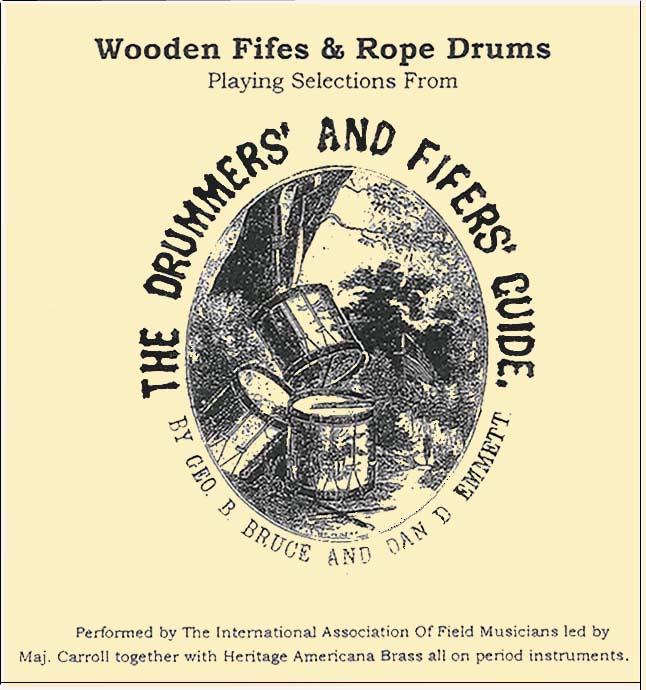 2. Three Camps
3. Slow Scotch
4. Austrian
5. Dawning of the Day
6. Hessian
7. Dusky Night
8. Prussian
9. Dutch
10. Quick Scotch & Three Camps
11. Hog-eyed Man Q.S., Drum Q.S. #2, Owl Creek Q.S., Drum Q.S. #1, Sole Leather
12. Downfall of Paris
13. Newport Q.S., Drum Q.S. #6, Hell on the Wabash Q.S., Drum Q.S. #7
14. Breakfast Call
15. Dinner Call
16. Funeral March #1
17. Merry Men Home from the Grave
18. Empty Pockets Q.S., King William Q.S. (drums), Governor's Island Q.S., Prince Eugene Q.S. (drums), The Girl I Left Behind Me Q.S.

Civil War Military Band Music
played by the Heritage Americana Brass Band (16 tracks)

19. Battle Hymn of the Republic
20. Polonaise - The Last Rose of Summer
21. Colonel Meeker's Quickstep
22. Battle Cry of Freedom and Kingdom Coming Quicksteps
23. When This Cruel War is Over and Hoist Up the Flag Quickstep
24. When Johnny Comes Marching Home
25. Dixie Medley Quickstep
26. Red, White and Blue Quickstep (Columbia the Gem of the Ocean)
27. Here's Your Mule Galop
28. Webster's Funeral March
29. Ellen Bayne Quickstep
30. Delevan's Quickstep
31. Vaillance Polka Militaire
32. Polka No. 33
33. Bold Solger Boy
34. Dixie and Bonnie Blue Flag
Sources:
Bandbooks:
26th Reg't N.C. Troops - 27, 28, 34
25th Mass. Inf. Reg't - 19, 20, 25, 32
3rd N.H. Reg't - 21, 26
1st Brig. Band, 3rd Div. 15th Army Corps - 22, 23
Brass band journals of the period
The cost of this great product? $14.95, plus shipping!
To order one, click on the fife.