Doctor's Woodwind Wax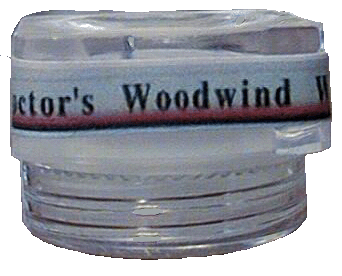 Although you can use residual bore oil on the outside surfaces of your instrument to maintain smooth, lustrous patina of your grenadilla, rosewood or cocobolo fife, the effect will not last for very long. It can attract and bind dirt and fingerprints to the surface, eventually dulling its appearance.
For centuries, various waxes have been used, mostly paraffin or carnauba based. Most of the available waxes are no more than mixtures of both. Here is what Dr. L. Omar Henderson has to say on that particular subject:
Butcher block wax or bowling alley wax is a mixture of waxes - about 1/4 - 1/3 carnauba, and various synthetic waxes, and some paraffin wax. This wax blend will clog the pores of the wood. Whenever I get into serious discussions with musicians and teachers the longstanding use issues always come up but I remind them that modern science has debunked a lot of "old wife's tales" and yet validated others for their core truths. Where possible, and not harmful, I am a fan of generic and homebrew formulations. Some products, however, just work better long term and cost more because they have expensive ingredients.
In my job I have the opportunity to do a lot of traveling and have met with the wood and fiber conservation experts at many of the world's major museums and learned a lot about oil formulations, waxes, restoration formulations, cleaning techniques, etc.. The wax that I use is a microcrystalline wax used by conservators at the British Museum, Buckingham Palace, Smithsonian Institution, Metropolitan Museum of Art, The Vatican Museum, the Louvre, and other famed institutions. It does not build up and allows the wood to "breathe." Many of the synthetic waxes and some natural waxes (paraffin based) clog the pores and tubules of the wood.
Dr. Henderson has made Doctor's Woodwind Wax

available to BeAFifer. It comes in a 4.8 gm container and sells for $4.95. That is enough to last for many years.
To order, click on the fife