Longman & Broderip Young Drummers Assistant
In 1767, James Longman established a music business at 26 Cheapside, London, which was then, despite its name, a quite fashionable address. Established initially as a pianoforte manufactory, the business thrived because that instrument was growing dynamically in prominence. Longman soon took in a partner, Mr. Francis Fane Broderip, and the enterprise grew even more dynamically, selling stringed instruments of all kinds as well as horns, reeds, and percussion instruments. In 1770, the firm expanded into a publishing house, printing music that ranged in genre from cotillions and marches to opera. They also published a variety of instrument instruction books on the flute, oboe, bassoon, and the French horn. Their first instructor, in 1770, was the Compleat Instructions for the Fife. In 1780, they published The Young Drummer's Assistant.
The latter book is one of the very first tutors for the drum ever published and served as the foundation for many others that came about later in both England and in America.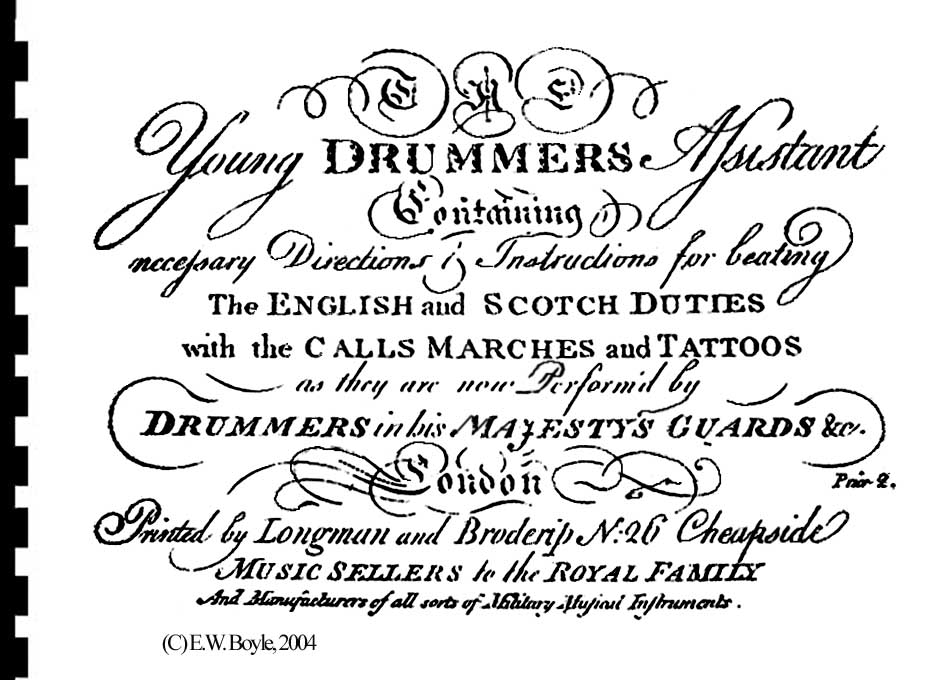 The publication is only 12 pages long and does not go to great lengths in spelling out specifics as pertain to rudiments. However, it can serve as a wonderful resource in describing a number of drum beatings as played in Britain in the late 18th century, including:
Drummers Call
Mother and three Camp Reveilles
General
Troop
Breaking off of the Troop
Foot March in 8 Divisions
To Arms
Grenadiers March
Recruiting Call
Pioneers March
Rogues March
Adjutants Call
Serjeants Call
Scotch Duty Beatings, including Reveilly
Digitally enhanced from the original, this book is available from Be A Fifer for $5.95 plus shipping.

Click on the fife.