"The Model F

Fife will be an heirloom some day."
Pitched in the key of Bb, the famed Model F

fife has since 1991 become the world standard for quality in performance, appearance, and ease of playing. It is my principal instrument as it is for many entire corps of musicians. Be A Fifer! is now the only Internet source for this wonderful instrument.
This instrument is the perfect choice for the student who is graduating to wood or for the seasoned fifer who wishes to improve his speed and tonal quality. At the Deep River Muster this year, I let a few people play one of mine. Comments? "Very easy to play," "Smooth as silk," and "The entire range is easy to play without a struggle." At the Westbrook Muster, "I had no idea I could play this well!" From a gentleman in South Carolina: "Sir, I hold your creation to the standards set by Klemm, Hall, Crosby, and Cloos! The Model F

has to be the finest reproduction I've ever seen or played in twenty-five years of loving this instrument we call a fife!" Someone from Pennsylvania wrote, "I only wish I knew about this fife 3-fifes ago!"
In purchasing such an instrument it is important to realize that these woods are very difficult and expensive to procure. The blanks are then air-dried for many years until the moisture content is just right as measured by a precision instrument. If the wood isn't ready, it is necessary to wait until it is. Metal parts are brought to a fine finish. Boring, turning, burnishing and finish of the internal surface of the bore must be done to perfection. This also takes time. The burnishing process is a secret method of over 50 years duration and not available on any instruments other than the Model F

Fife. This is the principal reason why it is so very easy to play.
External examinination of the wood blanks provides no information as to what problems may exist internally. They must be bored and turned before faults become visible. If a flaw is present, it goes into the woodstove. Such waste is often significant, especially when one considers how costly the wood is. A Model F

is never repaired and sold. These wonderful instruments are individually hand-made from start to finish. They have to be free of even the most minor imperfection before they are made available for sale and shipment.


I try to maintain sufficient quantities in stock of the four most popular instruments, all in the key of Bb. The production of this instrument is a labor of love...done to perfection every time.
To learn a bit more about Grenadilla (Blackwood) or Cocobolo, go to:
FYI: This is what Grenadilla aka. Blackwood looks like when it is first cut.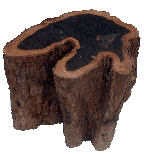 If some models are periodically out of stock, you have my word that they will be shipped in the same sequence in which the orders were received. As the old saying goes, "Good things are worth waiting for." A back order situation is occuring more and more often every year, when orders arrive faster than the fifes.
1. Bb. Cocobolo wood with long, brass ferrules - rich and lustrous with a beautiful color and grain. Cocobolo fifes were played during the Civil War and ever since.


2. Bb. Grenadilla wood with long, chrome plated ferrules. Black in color with a lovely patina, for years this was the most popular Model F

. Revered among drum corps fifers.

Discontinued, and no longer available.
3. Bb. Grenadilla wood with long, brass ferrules. Most popular among Civil War reenactors. This fife is now the most popular Model F

.