Thompson Compleat Tutor for the Fife
In 1760, Europe was at war. The Hanoverian King George II of England died and his son, George III, succeeded him as monarch. Five years later, the Stamp Act was passed. The die was cast and the American colonies began their long trek to independence from Britain.
Established in 1746 by Peter Thompson in St. Paul's Churchyard, London, the firm under his name was a very successful music publishing house as well as a purveyor of musical instruments. In 1759, it was renamed Thompson & Son, and later, Thompson and Sons. In that same coronation year of 1760 the Thompson firm published the Thompson Compleat Tutor for the Fife. The Thompson firm continued operation by Thompson children and grandchildren until sometime around 1800 when it became Button & Whittaker.
There is little question that this book of instruction was used in the musical education of British Army and Hessian fifers who later occupied Boston and fought throughout America's War for Independence.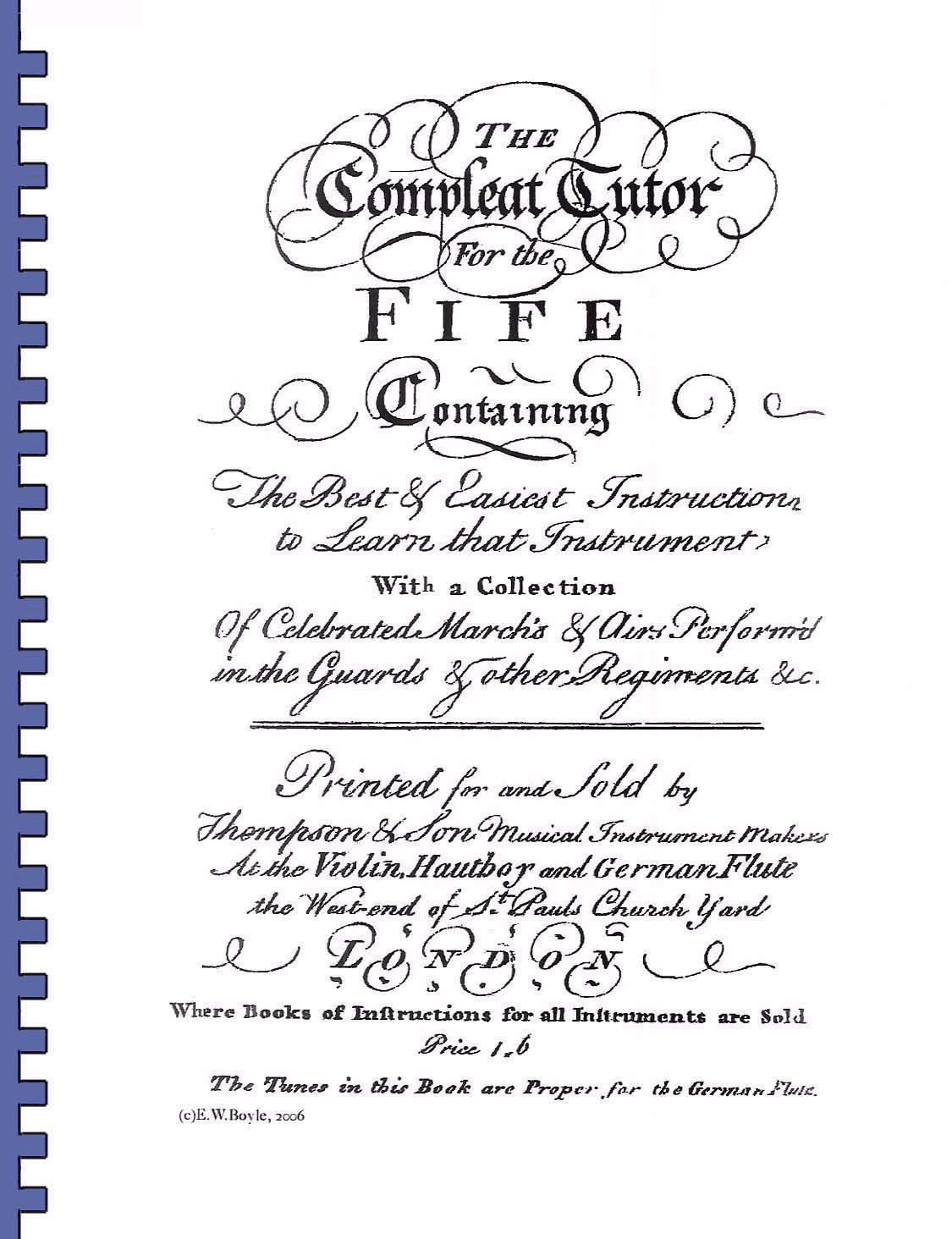 24 pages in length, the book has had the dirt and stains of almost 250 years digitally removed by hundreds of hours of tedious effort. It looks as good as it did on that day in 1760 at its very first printing. As old tutorials go, it is a fine one, containing detailed musical instructions, gamuts and fingering exercises. But of far more importance to a modern fifer, it has the English Duty, (17 tunes), the Scotch Duty (8 tunes), followed by 33 other tunes that were used for parades, drills, and unit specific functions.
English Duty
Scotch Duty
The Reveilly
The Reveilly
The General
The General
To Arms
To Arms
Troop or Assembling
The Gathering
Doublings of the Troop
Grenadiers March
Troop
Foot March
Doublings
Retreat
Troop for the Colours
Taptoo
Doublings when Colours is receiv'd
Troop
Doublings
Troop
Doublings
Grenadiers March
Foot March 8 Divisions
The Retreat
Taptoo

Other Tunes:

The Drums Call
Prince Eugene's March
Rogues March
Marquis of Granby's March
A Scotch Reveilly
Count Saxe's March
The Queen of Hungary's March
March in Judas Mackabeus (sic)
The Hessian Tattoo
General Wolfe's March
Tattoo
The Duke's March
The French Troop
Captain Money's March
The Dead March
Prince Ferdinand's March
Mr. Weideman's singling of a Troop
Lord Loudon's Grenadiers March
Lord Loudon's singling of a Troop
The Turks March
Foot March
The Train of Artillerys Grenadiers March
The Bank
The Foot March
The Singlings of Johnson's Troop
The Hessian Dragoons March
The Singlings of Pools Troop
A Turkish March
The Doublings
Count Brown's March
The Taptoo
Pioneers March
March in Scipio
This historic document is now available from BeAFifer for $14.95 plus shipping.
To order, click the fife.

or use PayPal