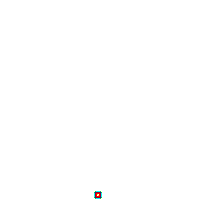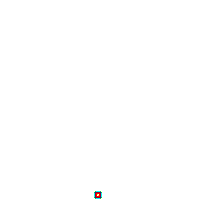 Philadelphia Fife and Drum
On February 10, 2002, a few members of Philadelphia Fife & Drum presented the colors at the National Basketball Association's All Star Game, with Ralph Archbold as Benjamin Franklin and Jay Bazzel portraying Thomas Jefferson.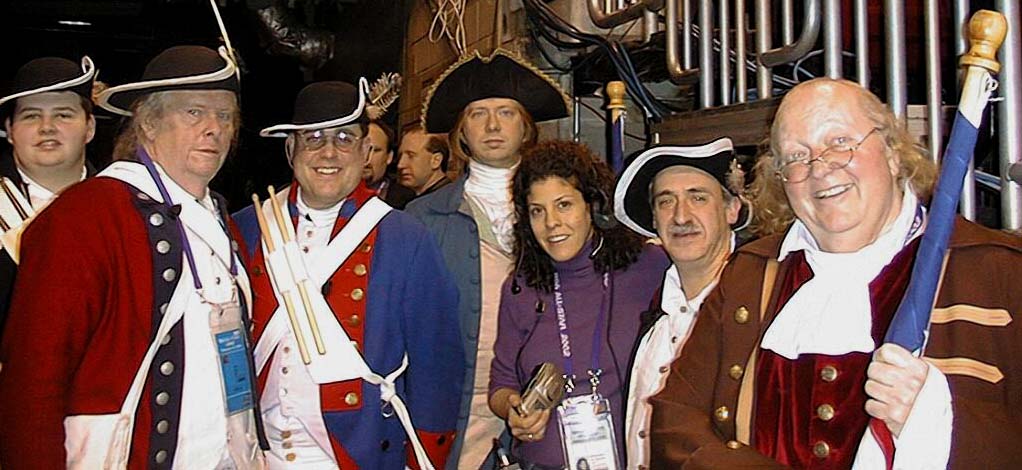 Joe Roby, Ed Boyle, John Grieten, Jay Bazzell, Stephanie De Simeone, Steve Kuerschner, Ralph Archbold
In the year 2004, the Philadelphia Fife and Drum performed 163 times in the greater Philadelphia area: parades, conventions, business meetings, and award ceremonies. We played for many thousands of visitors at the Philadelphia Convention Center and at all of the major hotels in town. We also presented the colors opening the 2003 NBA All Star Game here in the City That Loves You Back!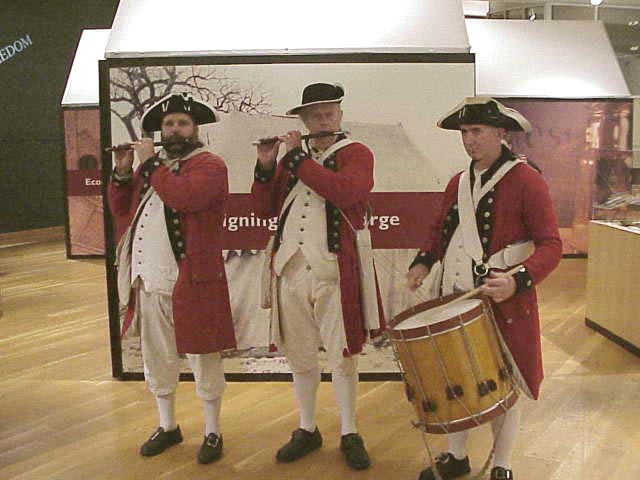 Photo by David Borzick, National Park Service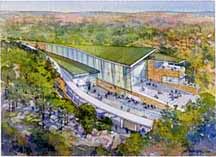 Rob Carroll, Ed Boyle and Mark Beecher (above) played for the ribbon cutting ceremony at the Valley Forge National Historical Park Visitor's Center, opening $1,000,000 of new exhibits sponsored by Exelon Corporation.


On July 4, 2000, we performed for dignitaries from throughout the world at the award of the Liberty Medal to Nobel Laureates James Watson and Francis Crick at Independence Hall. A few weeks later, we presented the colors to open the Republican National Convention at the First Union Center. We performed for delegates at 35 different locations.
On July 4, 2004, the corps performed at the Liberty Medal Award ceremony again, this time for Hamid Karzai, President of Afghanistan. We will do it again this year, in the Fall, for an as-yet unannounced 2005 winner. Simultaneously, the rest of the corp will be making the march at Broomall, PA, which we have done annually for many years. On Memorial Day, 2005, we will again be doing the parade in Weehawken, NJ. On July 4, 2005, we opened the ceremonies at Independence Hall for the presentation of the City of Brotherly Love Award to Elton John, and we did the Independence Hall ceremony again on July 4 in 2006, 2007 and, if history is any guide, 2008..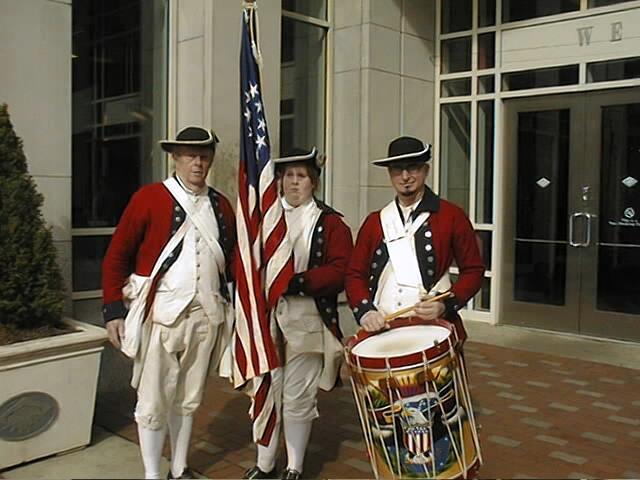 Ed, Mary Beth, Mark
In 2000, Philadelphia Fife and Drum was also in attendance at the groundbreaking for the new National Constitution Center. On July 4, 5 and 6, 2003, we performed at the dedication of the Center, which should be a "must do" for anyone coming to Philadelphia. For additional information, click on the image below. We have been performing there regularly ever since, 35 times so far.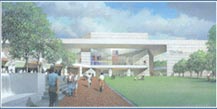 During 2004, we performed three times for special functions at the Washington Memorial Chapel, a must-see (and hear) when you visit the Valley Forge National Historical Park. The carillon is magnificent! Composed of 58 bells ranging in size from 8,000 lbs to 13.5 lbs, the total weight is 26 tons! It covers a range of 5 full octaves. It is one of the largest carillons in the world. We have been there annually ever since.
On September 22, 2003, we played at the awards dinner of the Pennsylvania Chamber of Business and Industry meeting in Hershey, Pennsylvania and did the same in 2007.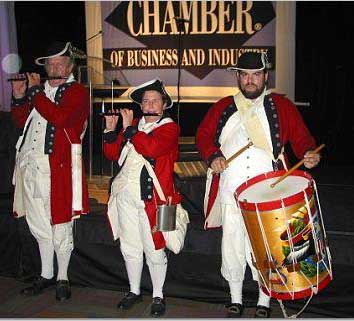 Photo by Ramona Fritschi
In 2003, the Corps adopted a light weight blue vest to wear when the weather is simply too hot for the red woolen regimental coats. A two mile parade with temperatures in excess of 95 degrees was getting to be a bit too much. The two fifers in the photo are Randy Kusel and Phillip Zacco. The drummers are Hoagy Wing (sans beard), Mike Calabrese, Mark Ettingoff and Mark Beecher. The fifers visible are Randy Kusel and Phillip Zacco. If it is as hot this year as last, we will do it again in 2008.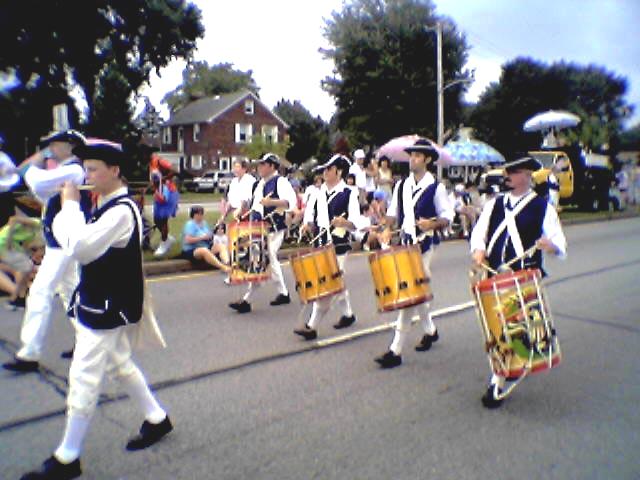 We performed at the Union League and other locations wearing Civil War uniforms, with appropriate music, of course. We appeared at Fort Mifflin and at Valley Forge as well. All the while, many of our 26 members took turns entertaining visitors throughout the summer with daily performances in the city's Historic District.
A few of our clan, Hoagy Wing, Mia Johnson, and Megan Lalli, were seen (and heard) on the Jay Leno's Tonight Show, parading with two very special Philadelphia visitors. We even performed in Atlantic City!
The Corps has traversed the Atlantic twice to play in Rome and Manchester with Rob Carroll, Megan Lalli, Jim Smith, Mark Beecher, and Ed Boyle. We've been very busy, but a few of us made the time to perform at the musters in Deep River and Westbrook, Connecticut while others played in Philadelphia. Performers this year have come from among the best in New Jersey, Delaware, Maryland, Connecticut, Ohio, Virginia, and Pennsylvania.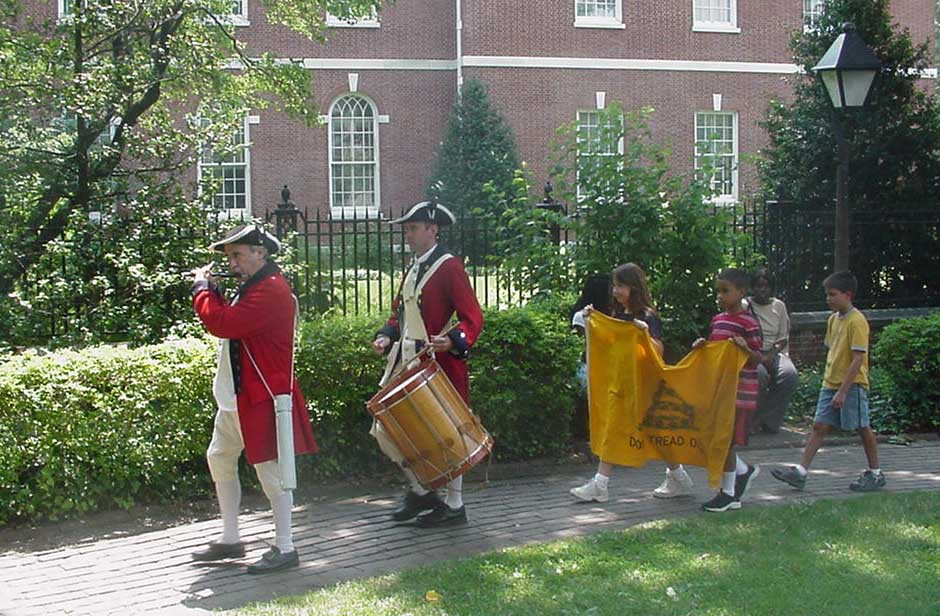 Steve Kuerschner and Pat O'Shea leading the recruits in the twice daily parade.
Photo by Tracy O'Shea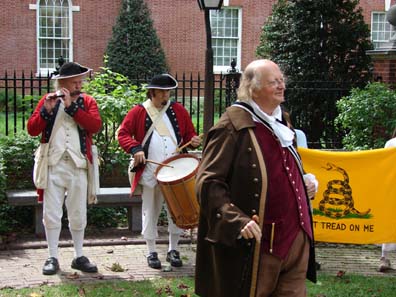 Ed, Hoagy and Ben at Signer's Garden
Photo by Rob Carroll
On August 2, 2006, we helped to celebrate the opening of the Center City Macy's store on the site of the historic Wanamakers building in Philadelphia. In the midst of a major heat wave (the temperature was hovering around 92), we led the parade. (see video) Because we often perform at odd hours when few similar organizations are available, the groups we provide range from 2 or 3 performers up to 16 - 18 members. The Macy's parade was typical with 3 fifers, 2 snares and a bass, plus a color bearer. We are also regulars in the Macy's store.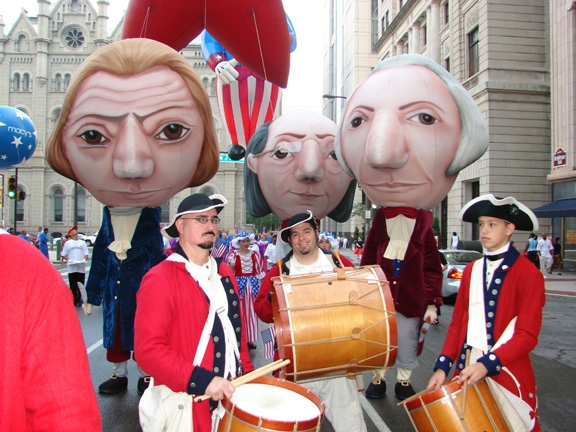 Mark Beecher, Hoagy Wing, Douglas Ranson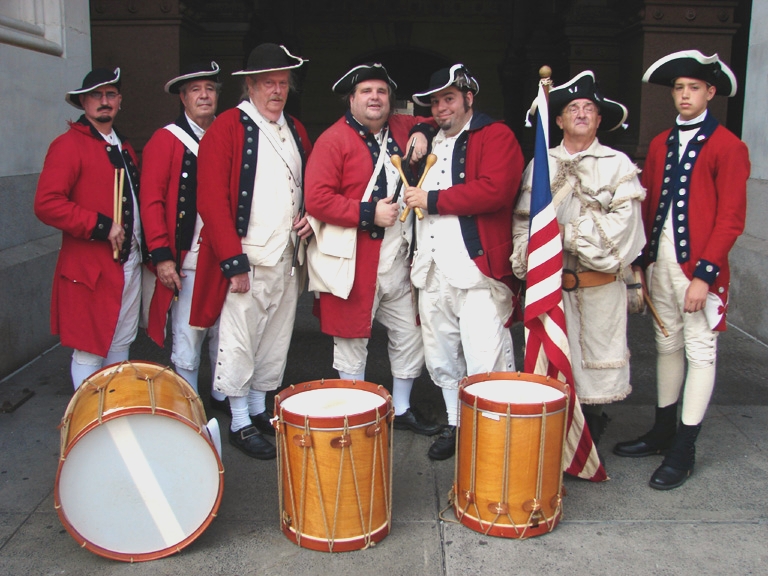 Mark Beecher, Ray Eyeler, Ed Boyle, Rob Carroll, Hoagy Wing, Fred Knight, Douglas Ranson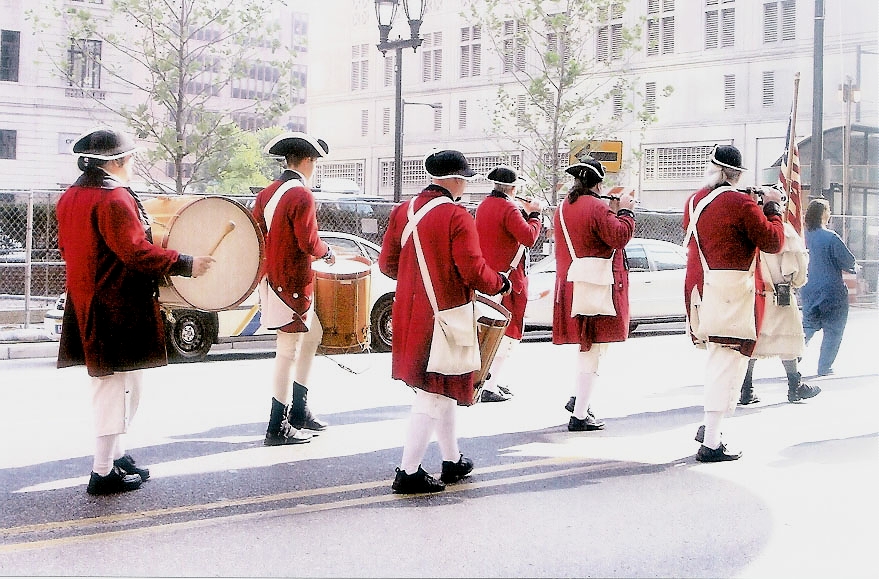 Photo by Everett Sahrbeck
We have done many performances in the past, like the Villanova University commencement and the 125th Anniversary of the Philadelphia Museum of Art. The museum was first founded at Memorial Hall, the site of the Centennial of the United States, long before the steps that Rocky climbed at its present home. See the photograph below: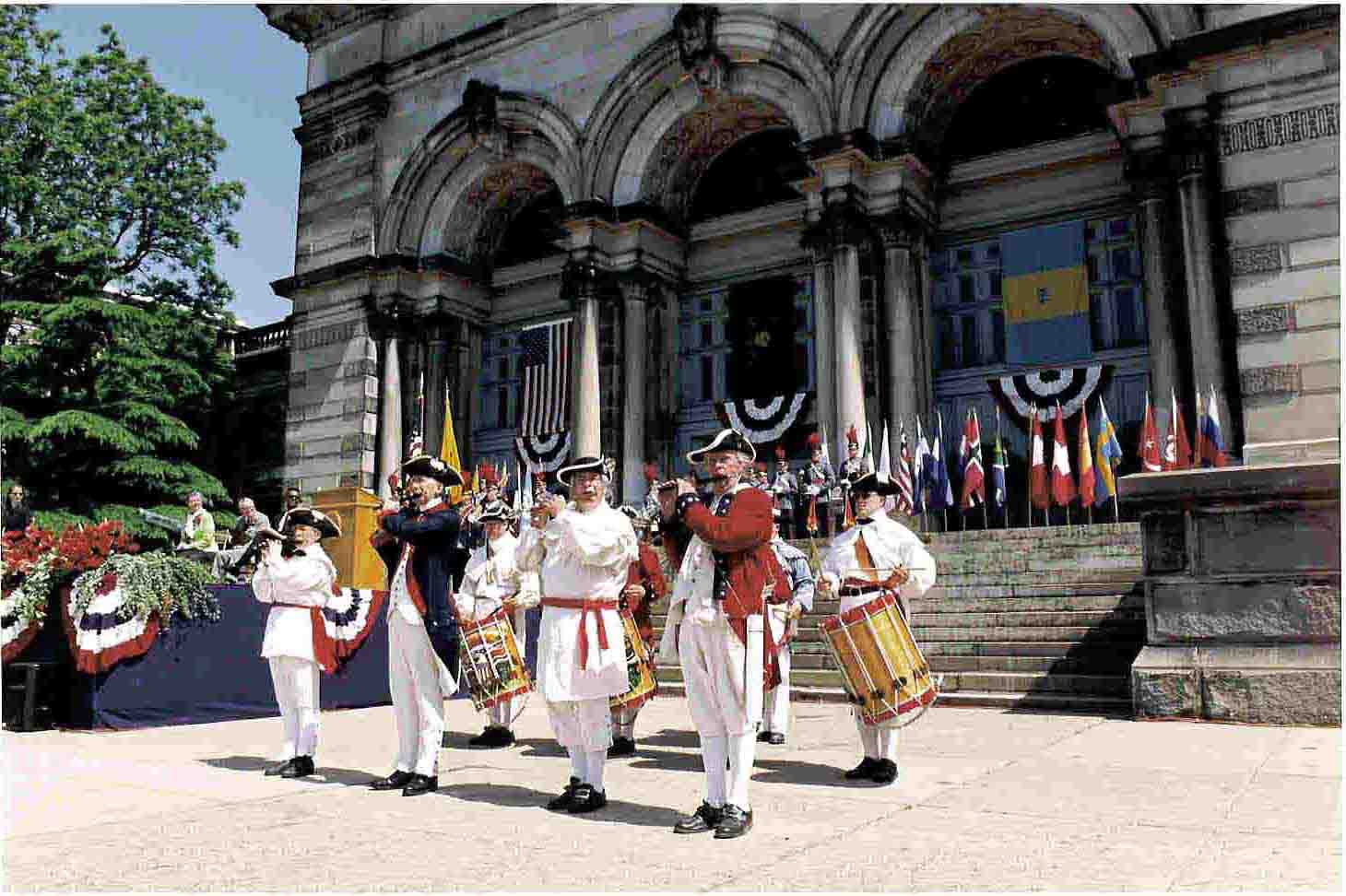 September 11, 2001 changed things a lot for us as it did everyone else in the nation. Airline travel came to a halt and a number of conventions were cancelled or postponed. A trip to Belgium for the corps was cancelled as well, so this was the first year we didn't go to Europe. However, beginning in mid-October, there was a resurgence of visitors to Philadelphia again and a lot of conventions reconfirmed. We performed five times during the recent Food and Produce Convention and had a very nice reception from thousands of visitors from all over the country and the world. One one occasion we even shared the stage with a horse and rider at a downtown hotel!
On May 9, 2002, we kicked off National Tourism Week at the Philadelphia Visitors Center, not far from the Liberty Bell, where the latest book in the well-known Chicken Soup series was introduced: Chicken Soup for the Traveler's Soul. Our director, Ed Boyle, did a public reading of his article from the book.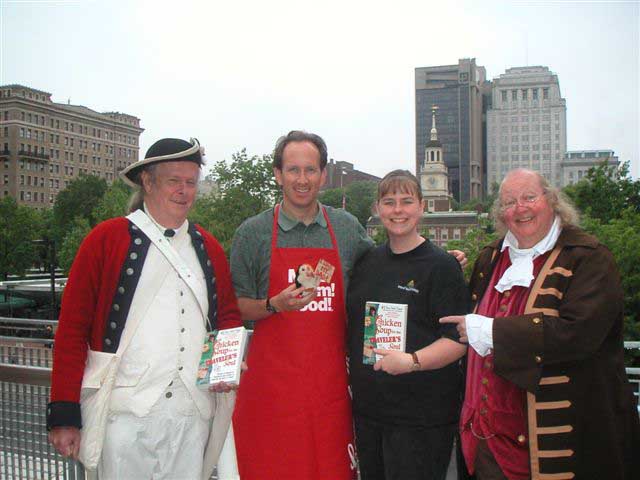 Ed Boyle, co-author Steve Zikman, Jennifer Mackenzie, and Ralph Archbold as Ben Franklin

A very busy day ended on the Battleship New Jersey.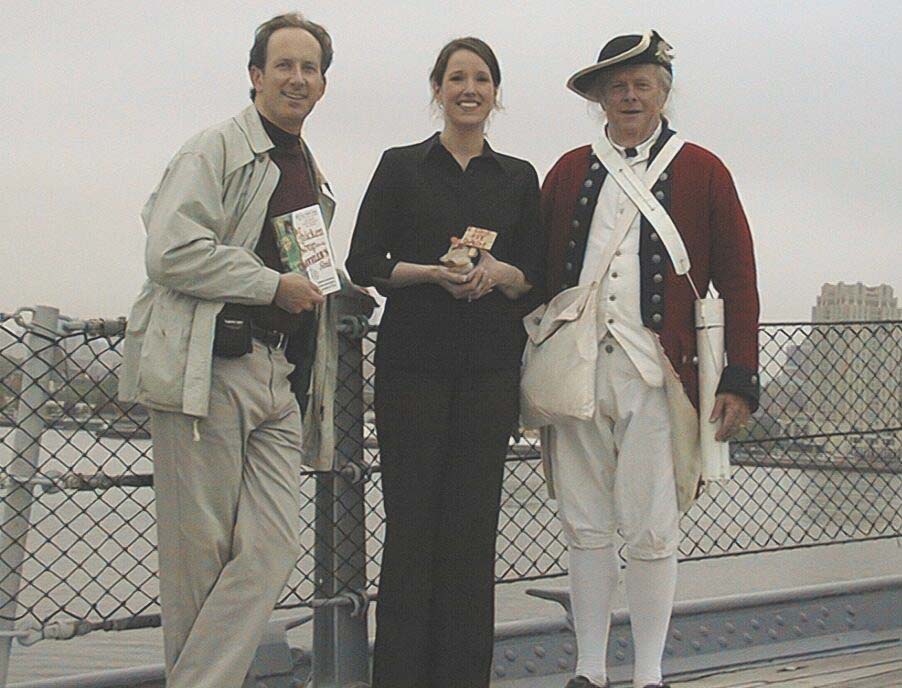 Co-author Steve Zikman, Jeanine Boyle, Ed Boyle
On May 11, a few of us took part in our annual ritual of playing at the University of Pennsylvania Alumni Reunion, playing many selections from our repertoire as well as the university's anthem, "Red and Blue," countless times.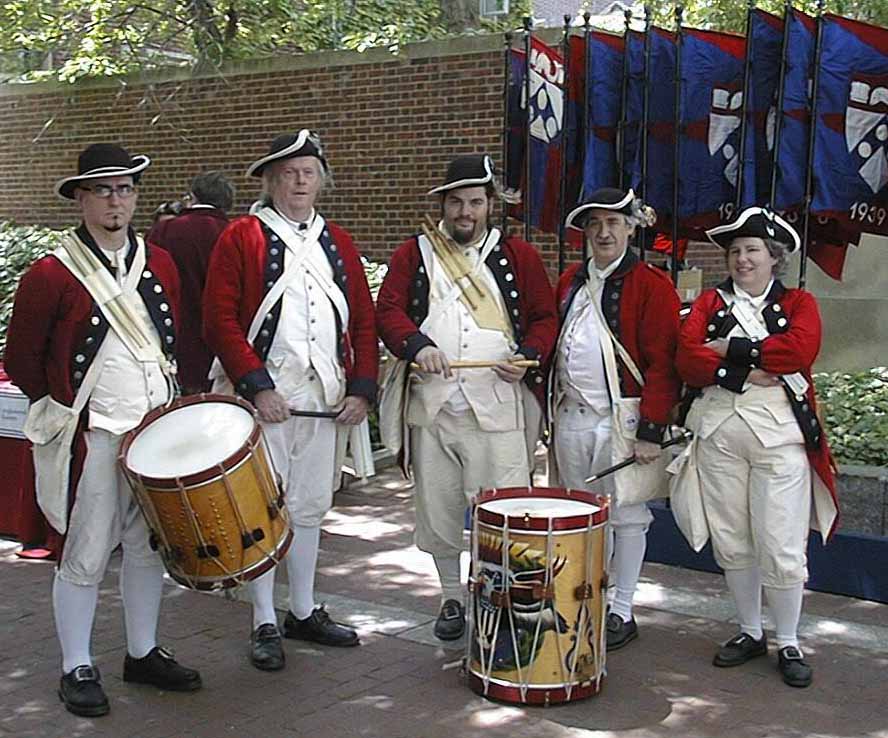 Mark Beecher, Ed Boyle, Hoagy Wing, Steve Kuerschner, Megan Lalli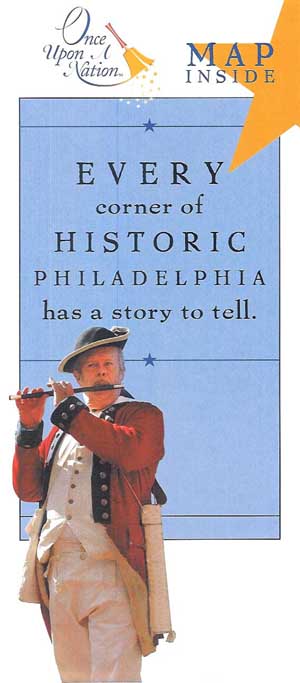 If you are planning to visit Philadelphia this summer, be sure to obtain a copy of the Guide Map from Once Upon a Nation. You can pick one up at the Visitor's Center and many other locations througout the park. It will inform you all about:

1. Storytelling at 13 different locations throughout the park.
2. Evening Activities, including longer stories by nationally known writers, readings and historical reenactments plus interactive screenings of 1776!
3. Harmony Lane, where you can meet historical characters who gossip with visitors and play Colonial games with children.
4. The Benstitute, where one can participate in a three week certification program on the art of story-telling.
5. Independence Living History Center, where artifacts are displayed along with the tales that go with them.


Republican National Convention - 2000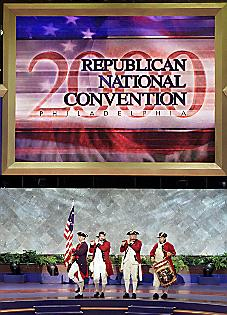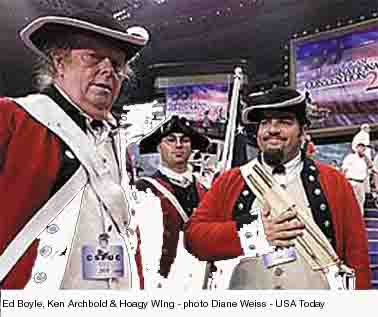 Some of us wore blue, too.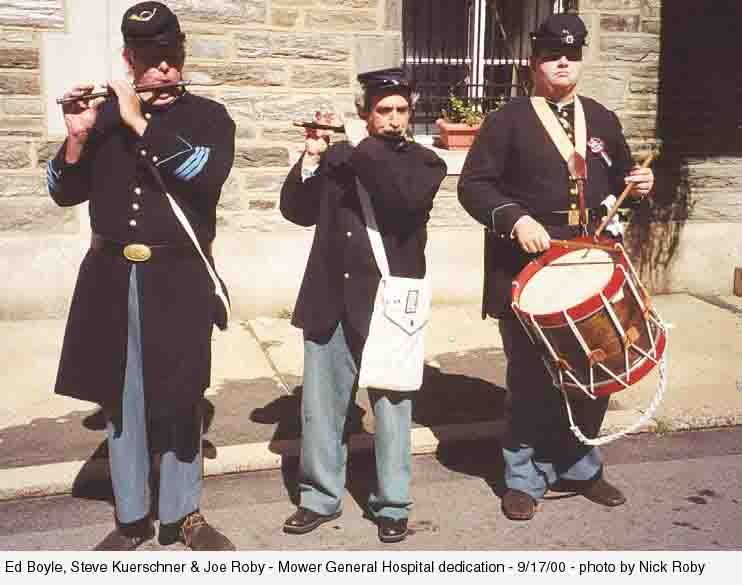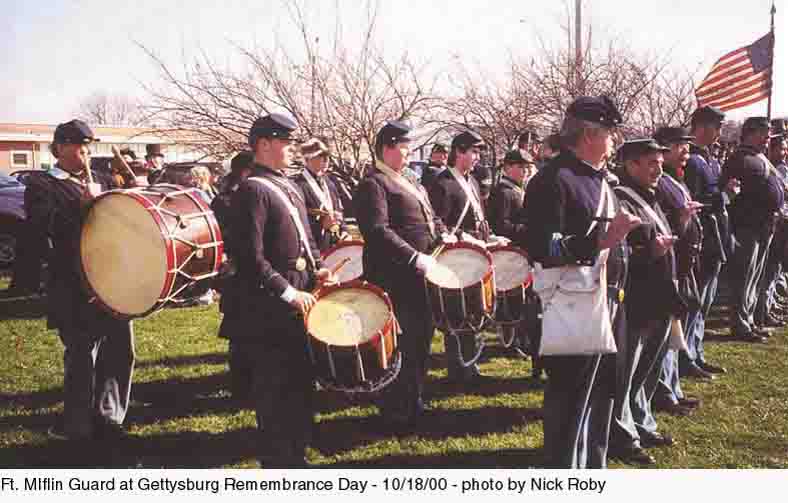 Best photo yet! May 30, 2000: Ed Boyle's feet!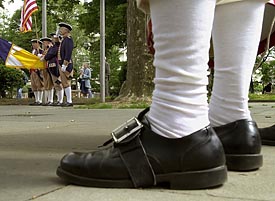 by Peter Tobia - Philadelphia Inquirer Staff Photographer
Ah, fame! Here's another one.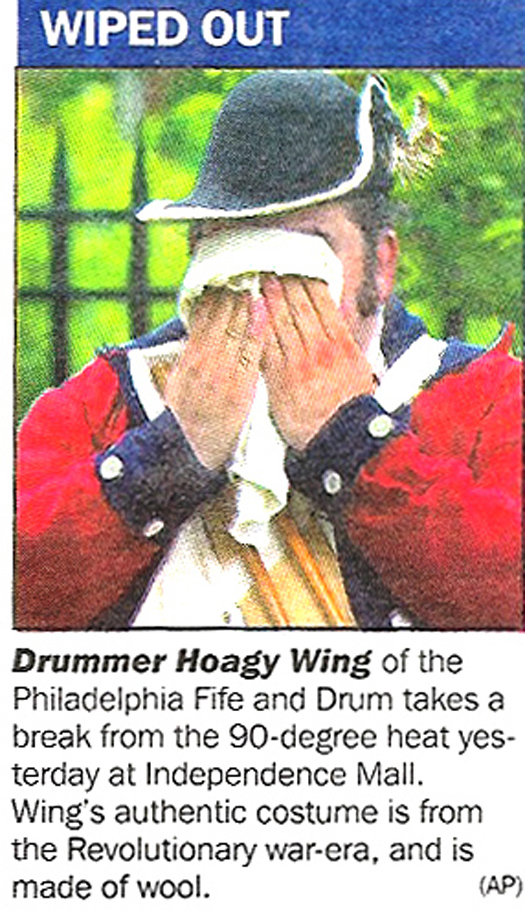 June 12, 2002 Associated Press