Hazeltine Instructor in Martial Music
Written by David Hazeltine and published in Exeter, New Hampshire in 1817, this most popular book has always been of great interest for both fifers and drummers. Hazeltine wrote the drum section in 21 rudimental lessons, using the onomatopoeia or narrative method of describing the beatings. He also has many individual beatings for various tunes (see contents). This rudimental method was popular at the time and still is today despite the fact that more modern methods of musical scoring had been published by Lovering and others.
For the fifer, there are a total of 58 pieces ranging from well known tunes like March to Boston (Road to Boston), Go to the Devil and Shake Yourself, Jefferson and Liberty, Paddy Whack, Yankee Doodle, Hay Maker, Baltimore, Seven Stars, Girl I Left Behind Me to many lesser known tunes from the period. The contents, adding up to 48 pages, are listed below. They have all been digitally enhanced for clarity.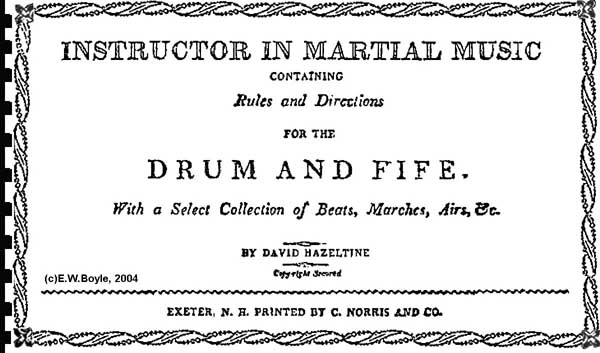 CONTENTS:

Drummer

Fifer

Lesson 1
Long Roll
Bliss's Reel
March in Bluebeard
Lesson 2
Three Stroke Roll
Bold Highlander
Major Minor, New Way
Lesson 3
Five Stroke Roll
Baltimore
March to Boston
Lesson 4
Seven Stroke Roll
Banks of Flowers
New Pump Room
Lesson 5
Nine Stroke Roll
Bonaparte's March
Netley Abbey
Lesson 6
Ten Stroke Roll
Belzer's
Nancy Dawson
Lesson 7
Right Hand Single Flam
Capt. Money's March
On the Way to the Field
Lesson 8
Left Hand Single Flam
Cubie's March
Old Festus
Lesson 9
Double Flam
Care Thou Canker
Portland Quick Step
Lesson 10
Flamadiddle
Drummer's Call
Pinckney's Remove
Lesson 11
Padaddle
Drops of Wine
Pioneer's March
Lesson 12
A Sroke a Three and a Two
Duke's March
Pleasures of Solitude
Lesson 13
Four Stroke Rough
Duke of Holstein's March
Paddy Whack
Lesson 14
Three Stroke Rough
For There's No Luck &c
Recruiting Officer
Lesson 15
Single Drag
Free Mason's March
Republican March
Lesson 16
Poing Stroke
General's Salute
Roslin Castle
Lesson 17
Double Drag
Gen. Washington's March
Rogue's March
Lesson 18
Fifteen Stroke Roll
Gen. Green's March
Seven Stars
Lesson 19
Seven, A Three-and-a-Two
God Save America
Shady Grove
Lesson 20
Seven-and-a-Two
Go to the Devil and Shake Yourself
Swiss Guard's March
Lesson 21
Flam-and a-Two
Hampton March
Soldier's Wedding
Jefferson & Liberty and Irish Devil
Hay Maker
Serenade
Quick Time
Irish Devil
Three Cheers
Hay Maker
Irish Brigade
Girl I Left Behind Me
General's Salute
Jefferson and Liberty
Drops of Brandy
Drummer's Call
Lady Bruce's March
The Oddity
Single Drag
Morelli's Lesson
Warren's March
Irish Brigade
March On
Yankee Doodle
Double Drag
Midnight Hour
Free Mason's March
Duke's March
Trip to Otaheite
Pioneer's March
Rogue's March
Warren's March
Baltimore
Cubie's March
On the way to the Field
Three Cheers
First Sergeant's Call
Non-Commissioned Officer's Call
To Go for Wood
To Go for Water
Front to Halt
For the Drummers
For a Fatigue Party
The cost of the book is $15.95.
To order, click the fife.