Lovering's Drummer's Assistant
The son of a drummer and officer in the American Revolution, Levi Lovering was probably taught to drum by his father. He collected various drum beatings, 60 in all, from 1792 until 1805 that were published as The Rule of the First Roll or Gamut for the Drum. In order to support his family, he moved frequently, from Massachusetts, through New Jersey, Connecticut and New York. In 1819, while residing in Bridgeton, New Jersey, he had the Drummer's Assistant published in Philadelphia by Bacon & Co., and later by J.G. Klemm in 1823.
Up until this point in history, there were numerous ways of recording drum beatings. About the only standard method was the mnemonic or narrative method; e.g.: "A nine and a half drag, and two and a half drags; then a nine, a rough, and two and a half drags" (First Part to Roast Beef). Hazeltine, Robinson and others used the narrative method in later publications. Although considered by some to be clumsy, this system method is still being used by some instructors today.
Wishing to provide a tool for the self-taught drummer, Lovering invented a scoring method he called his "mode of notes," which used two parallel staves, the upper staff for the left hand and the lower for the right. He invented specific terminology as well to describe certain actions. It is this method that is used in The Drummer's Assistant. It has been said that Lovering's method of scoring was taken from Charles Robbins' Drum and Fife Instructor. However, various analytical methods have proven this conclusion to be incorrect.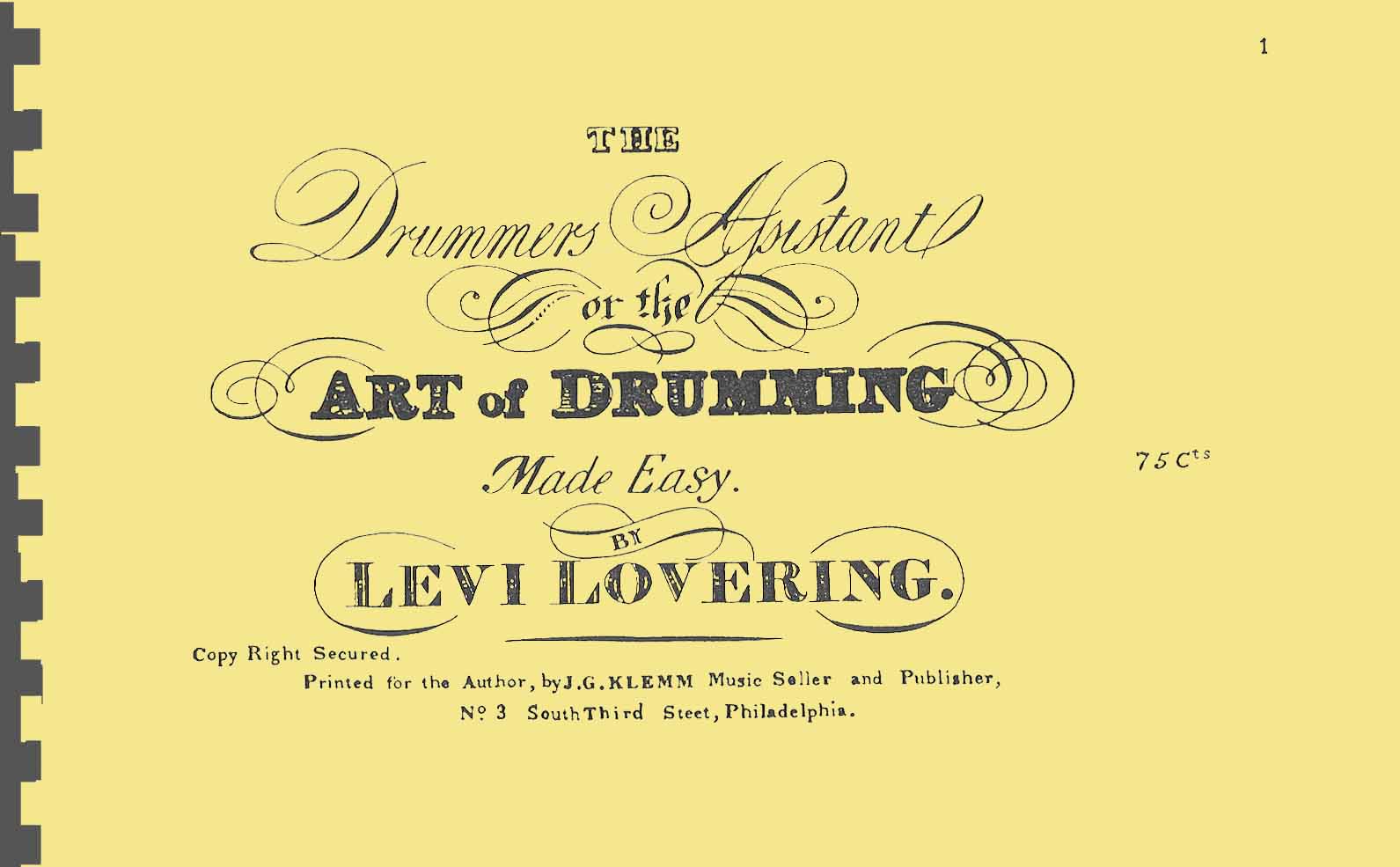 Drum beatings, many or all of which were probably used during the American Revolution, include:
| | |
| --- | --- |
| Scotch Favorite | The Apprenticed Mason |
| My Love, She Is | The Merry Ploughman |
| This is None of my House | Gilderoy |
| Duncan's Dance | Bridgeton |
| To the Fields | Washington's March |
| General's Salute | Baltimore |
| The New Pomproom | Girl I Left Behind Me |
| The Button Hole | Rhode Island |
| The Wood Cutter | Soldier's Return |
| Quick Step for the 12th Rregiment | Yankee Doodle |
| King William's March | The General |
| To Arms | Various Camp Duties |
| White Cockade | Revielle |
Taken from the original, all 24 pages have been digitally enhanced for clarity and "comb bound' so it lays flat for ease of reading. This piece of drumming history may be had for $12.95 plus shipping.
To order, click the fife.