Elias Howe's Drum and Fife Instructor
Before proceeding with the story of Elias Howe, it is necessary to dispel the notion that the "Elias Howe" of fife and drum fame was also the inventor of the sewing machine. The latter "Elias Howe" was born in Spencer, Massachusetts in 1819 and our "Elias Howe" first saw the light of day in Framingham, Massachusetts a year later. Elias Howe, the musician, was first a farmer in Framingham. He later learned to play the fiddle and performed in Boston. He next opened a music store in Boston's Scollay Square and began to publish music, initially for the violin and later for other instruments.
In 1851, Howe published his Howe's School for the Fife, a tutorial that also included over 150 tunes, many of which are commonly played today. Highly regarded in peacetime, this book was commonly used to teach fifers prior to the onset of hostilities in the War Between the States. It was also used to train fifers in the Civil War music schools at Newport Barracks, Kentucky and Governor's Island in New York harbor.
From: Boston of To-day: A Glance at Its History and Characteristics. With Biographical Sketches, by Edwin Monroe Bacon - 1892, Page 266:
"Mr. Howe...began making drums, and during the early years of the war he sold drums and fifes to nearly all of the Massachusetts regiments and to many of the Western States. He also published music, especially military band and drum and fife, for use in the armies. Much of this music was sent to Louisville, Ky., and after the war he was informed that it all went into the Confederate army and was played there."
Howe is best known among our contemporaries for his United States Drum and Fife Instructor, published in 1862, which is often used by the various Civil War music schools conducted today. Unfortunately, the copies used were multi-generational photostatic copies from original manuscripts, significantly reduced in size, and of extremely poor quality. It has now been digitally restored to its original size (8 x 9-1/2 inches), distracting background removed, and has been digitally enhanced for clarity.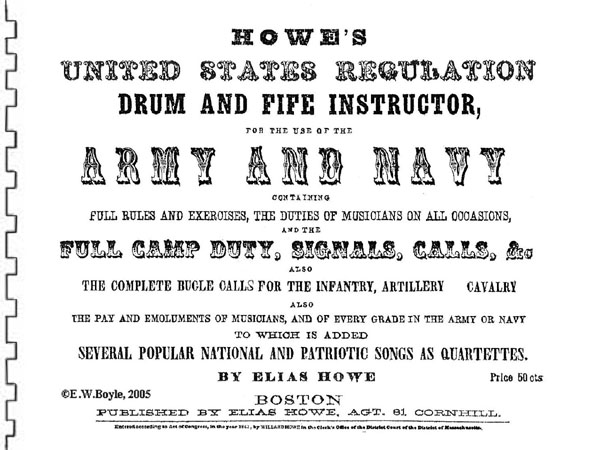 The book is massive, totaling 114 pages. It includes:

An abstract of camp duties, including signals for the baton.


Instructions for the drum and basic rudiments using the onomatopoeia or narrative method, where the rudiment's name describes the actual sound, as in "paradiddle" or "ratamacue."


Two pages of Army Regulations as pertain to musicians and bands.


19 lessons for the drum, using musical notation, followed by 13 camp duties for both fife and drum. It is formatted in over and under fashion, with the drum parts immediately beneath those of the fife.


The most complete Reveille, including such variations as Kinlock, with 9 tunes for fife and drum in all, followed by another 11 tunes that may be performed after Reveille.


The Tattoo, composed of 8 more tunes for both fife and drum.


89 other popular calls and tunes from the period, with drum parts.


13 drum signals specific to 1812 period.


Bugle calls for Infantry, Artillery and Cavalry, 130 in all.


Music and lyrics for 9 popular songs of the Civil War period.
Restoration of this manuscript is the largest project of its type that I have ever done. Beyond any question, it should be a very important part of the collection of any Civil War reenactment fifer, drummer or bugler.
Howe's Drum and Fife Instructor is now available from Be A Fifer for the sum of $18.95 plus shipping.

To order, click the fife.