Then bang the drum and blow the fife,
And wave the flag above!
And let us live a soldier's life,
And love a soldier's love!
- La Grande-Duchesse de Gérolstein
Howe's School for the Fife
Before proceeding with the story of Elias Howe, it is necessary to dispel the notion that the "Elias Howe" of fife and drum fame was also the inventor of the sewing machine. The latter "Elias Howe" was born in Spencer, Massachusetts in 1819 and our "Elias Howe" first saw the light of day in Framingham, Massachusetts a year later. Elias Howe, the musician, was first a farmer in Framingham. He later learned to play the fiddle and performed in Boston. He next opened a music store in Boston's Scollay Square and began to publish music, initially for the violin and later for other instruments.
From: Boston of To-day: A Glance at Its History and Characteristics. With Biographical Sketches, by Edwin Monroe Bacon - 1892, Page 266:
"Mr. Howe...began making drums, and during the early years of the war he sold drums and fifes to nearly all of the Massachusetts regiments and to many of the Western States. He also published music, especially military band and drum and fife, for use in the armies. Much of this music was sent to Louisville, Ky., and after the war he was informed that it all went into the Confederate army and was played there."
He is best known among our contemporaries for his United States Regulation Drum and Fife Instructor, published in 1862, which is often used by the various Civil War music schools conducted today. However, of far greater interest to the fife-playing visitors to this website is Howe's School for the Fife, which was published in 1851, and presumably was used at the Civil War music school at Newport Barracks, Kentucky and the Governor's Island school in New York Harbor. It was used to teach the fifers who taught the fifers during the war.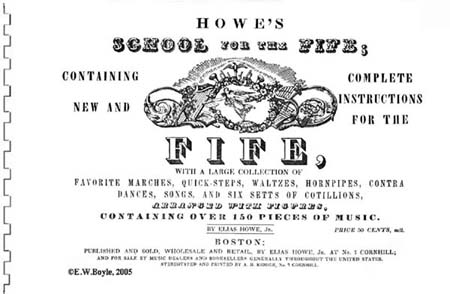 A wonderful resource, this book contains over 150 tunes in its 56 pages, many of which are well-known and often played today, including: a collection of camp duties, circa 1851, Auld Lang Syne, Bonny Doon, Poachers of Lincolnshire, Governor King's March, What Can the Matter Be, Hail Columbia, and Quick March in Cymon. It also includes a favorite of mine, The Devil's Dream. Standard numbers like Wrecker's Daughter, St. Patrick's Day in the Morning, Rory O'More, Irish Washerwoman, White Cockade, McLeod's Reel, Campbell's Are Coming, The Cuckoo, Soldier's Joy, Rickett's Hornpipe, Liverpool Hornpipe and Guilderoy are there. There's more: Fisher's Hornpipe, Constitution Hornpipe, College Hornpipe, Old Zip Coon, Old Dan Tucker, and Go to the Devil and Shake Yourself are included.
Howe died in 1895. At the time of his death, he owned the largest collection of musical instruments in the United States. His sons, Edward and William, continued to operate the store until 1931, when it was closed. In that same year his immense instrument collection was "dispersed." No one appears to know what was in it and where it went.
The principal reason why this book is not as well-known today as it should be is that any and all of the original manuscripts I have seen are in very bad condition. It required almost 400 hours of computer time to restore the manuscript to its original clarity and appearance as displayed below.
BEFORE: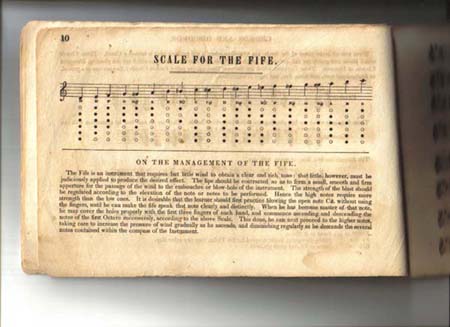 AFTER RESTORATION: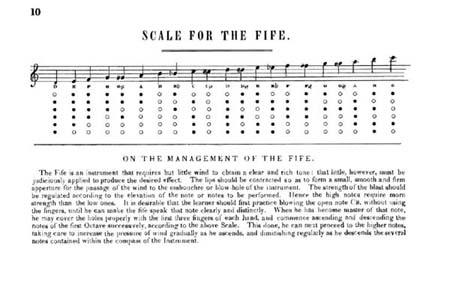 Howe's School for the Fife is now available from Be A Fifer for the paltry sum of $15.95 plus shipping.
To order, click the fife.