If you're serious about snare drumming, you'd better read this.
Over the course of many, many years I have been blessed with the opportunity to know and play with some of the very finest drummers of the 20th century, among them: Earl Sturtze, Hugh Quigley, Eldrick Arsenault, Jack Tencza, Bill Reamer, Jack McGuire, Jay Tuomey, Paul Munier and many others. Of somewhat more recent vintage, only playing for about 30 years, I would have to include the name of Mark Beecher on the list. Extremely well known in Ancient music, he is better known in professional circles, having performed with some of the top recording artists in popular music today. Mark has produced a DVD that is absolutely fascinating for a fifer like me and certainly should be in the collection of any serious rudimental drummer.
Beginning with information retrieved from the Basle city records from 1332, wearing a uniform from that period, and playing an authentic Swiss drum of the type used in the 14th century, he explains and demonstrates such Swiss Rudiments as the Flammed 5, Flammed 9, Sundgauer Beating, Retraite Beating, Swiss Army Triplet, and Pataflafla Stroke. He then demonstrates applications of those rudiments.There's more. Next on the agenda is the Walliser Beating, followed by the Superior Rudiments: The Tap Flam, Charge Stroke, Final of 7, Mill Stroke, Mill Wheel Stroke, Sammeli Beating, Arabi, VD45-Roulee, Pumperniggel.
These are followed by French beatings published in the French Orchesographie by Tholnot Arbeau (1588) and Pistofilo (1621). From the period of Charles I of England are the English March and Warrant (1632). Of course, Mark is garbed in a uniform of the period and beating a drum from that era. More early English beatings follow: The General, is followed by the original Three Camps from Longman & Broderip's Young Drummer's Assistant (1780) and Potter's Art of Beating the Drum (1817). There is much, much more: Samuel L. Potter's A Flam and Faint, Drummer's Call and Camp Taps.
We then jump to our side of the pond with Ancient Drum Beatings of America: Benjamin Clark's Seven Stars; (1797), many works of Hazeltine (1817), Ashworth (1812) and Robinson (1818), with Mark uniformed as an drummer from the War of Independence. Of the 28 rudiments published by Ashworth, 26 are the classical first rudiments learned by most American drummers today. A few costume changes later, he is garbed in Civil War uniform and playing such Bruce and Emmett (1862) items as a Seven, a Three, and a Two, Poing Stroke Hard, Hard Stroke, Faint Stroke, Trible (sic) Paradiddle and the famous Lesson #25. Applications consist of the Wood Call, Austrian, Eight Stroke Roll, Drummer's Call. Rumrille & Holton (1817) published work for both snare drum and bass drum, including Accents #2 and #3. Your will also see and hear Tap Ruff, Paradiddle Diddle #2, Flamadiddle, Breakfast Call, and New Tatterjack.
With Hoagy Wing playing the bass drum, Mark demonstrates various phrasings in Downfall of Paris, Biddy Oats (Army 2/4), Seely Simpkins, and Hell on the Wabash. In 1862, we jump to Col. H.C.Hart (1862) and Paradiddle Drag Beat, Flam Paradiddle, Single Flam Beat, Rosebud Reel (the original Connecticut Halftime), Silver Eagle. McConklin's 2-4 Stick Beat. Oops! Here's Three Camps again, but this is Strube's version of 1869, the one we play today. Lyle Faulkner contributes the Tip, and then we begin the more modern "ancient" drum beatings with Grandfather's Clock, Old Dan Tucker, Old Saybrook, Crazy Army, and one composed by Mark himself called Drummer's Service.
Not wanting to leave all of you modern and orchestral drummers out, Mark finishes by sitting at a conventional modern drum set and puts it all together, old rudiments with modern instruments! This DVD is the result of an awesome amount of research performed flawlessly by one of the finest drummers ever!
A companion CD contains 48 of the drum beatings in modern musical notation along with a detailed bibliography.
A perfect gift for that snare drummer in your life, this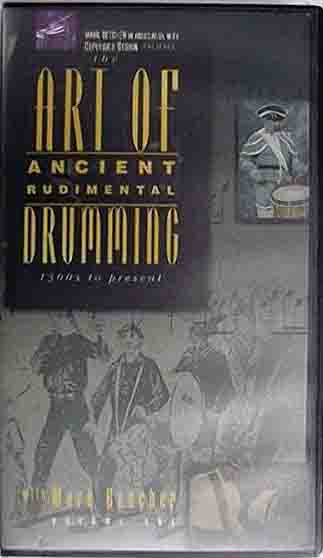 DVD is available for $29.95, plus shipping.
(Please note: NTSC DVDs will run in U.S.A., Bahamas, Bolivia, Canada, Chile, Columbia, Jamaica, Japan, Korea, Mexico, Peru, Philippines, Taiwan, and Venezuela. In some other countries, it will be necessary to convert to your local format.)

To order, click the fife.
In stock and available for immediate shipment.

or use PayPal